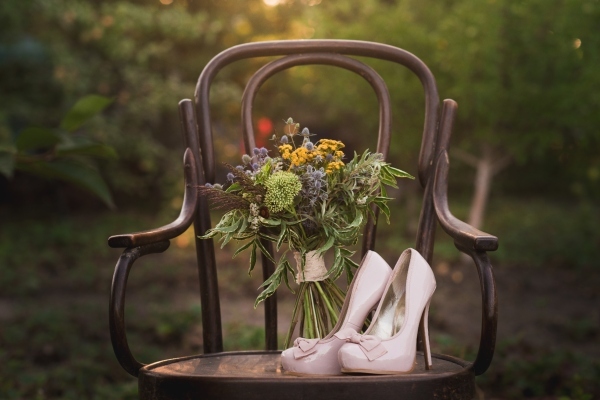 Personality
We've talked about a lot of important factors here, but remember that shoes are fun and this choice is a way to really show off your personality! Maybe you want to get custom-made matching sneakers with your partner, or choose a pair that's in a wild pattern or color. You could even choose one look for the ceremony and a different one for the reception. The possibilities here are endless and footwear is a perfect way to show off your personality in a big way!
Style
Probably the first thing most people think about in regards to their shoe choice is the style. Are you looking for a classic pair of heels, a chic flat, a simple sandal, or a fun sneaker? The very first thing to consider is the look you're hoping to achieve for the big day. Considering your venue location—a beach wedding is probably going to require different footwear than a ballroom—is one of the first steps. The style of your dress is also an important factor. Do you want the shoe you choose to complement and blend in seamlessly with the overall look or do you want them to stand out and be a pop of fun and personality? Will they be hidden under your dress most of the time or does your dress have a shorter hemline, making your shoes the potential star of the show? Take a look at different style options and consider how they might be paired with your outfit and your venue.
Color
Even if you decide on a more traditional shoe style, there are still many color options available to you. Some people choose a more neutral color such as white, cream, or beige, to not draw attention to the shoes themselves, while others prefer to use their shoes as a moment for a pop of color! Many brides even choose to use their shoes as their "something blue" and go with a gorgeous navy or a bright cobalt as a fun surprise peeking out from under their wedding dress. But color doesn't have to stop there; if you love a certain color and are known for it, don't be afraid to represent that as you're walking down the aisle! You could match them to the rest of your wedding colors or just have your own unique color choice. There's no right or wrong here, so if you're a person who loves bright, bold colors, don't be afraid to let that love shine!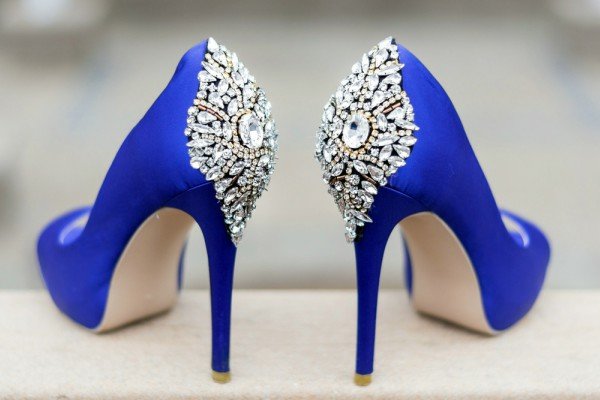 Height
This might not be something that you would immediately consider when choosing footwear for your big day, but it's actually very important, particularly if you're wearing a floor-length gown for your wedding celebration. You'll want to make sure you know the height of your shoes ahead of time, so that when you get your dress tailored to you, the shoes will be considered as part of the equation. If possible, you should even get the shoes themselves, or at least a pair that's the same height as the ones you've chosen, and bring them with you when you get your dress tailored so that everything fits together seamlessly and you don't end up with an unfortunate surprise on the day of your ceremony.
Comfort
Comfort is perhaps one of the least considered but most important aspects of a pair of wedding day shoes. Of course, you want whatever pair you choose to look amazing, but it's essential not to overestimate how much time you'll truly be wearing these. You'll be wearing these shoes for hours—standing still during your ceremony, walking around greeting everyone you love, dancing, and maybe even rushing to grab a photo with your partner when the light is perfect. Needless to say, it's essential to make sure that whatever you choose is going to be extremely comfortable and this should come into play in a big way when you're making this decision. So, try them out. Wear them around the house for a few hours and see how they feel. If you're able to add additional comfort and support to your existing pair, that's fantastic, but what if you slip them on and five minutes later they're giving you blisters? No amount of gel padding in the world will fix that. This is your wedding day! You want to be comfortable and floating on air, so make sure your shoes will be an amazing addition and not a painful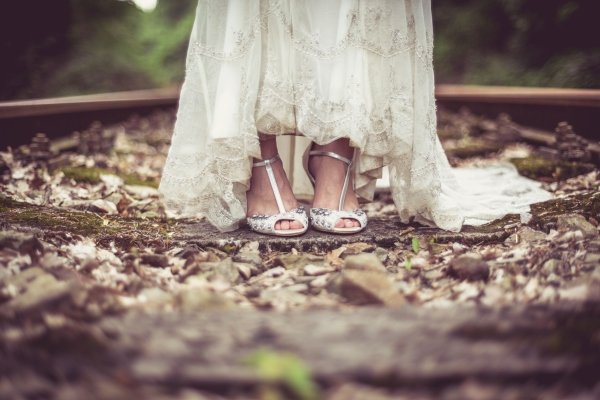 Related articles:
How to choose Your wedding jewelry
How to turn your bachelor party into a wedding party
How to look like a glamorous bride at an outdoor wedding